Thursday is Israeli INDEPENDENCE DAY!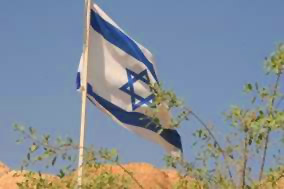 "For not by their own sword did they win the land, nor did their own arm save them, but your right hand and your arm, and the light of your face, for you delighted in them. You are my King, O God; ordain salvation for Jacob! Through you we push down our foes; through your name we tread down those who rise up against us. For not in my bow do I trust, nor can my sword save me, but you have saved us from our foes and have put to shame those who hate us. In God we have boasted continually, and we will give thanks to your name forever. Selah" (Psalm 44:3-8).
SPECIAL NOTICE FROM MARTIN
I (Martin) will be going into hospital in Ein Kerem Hadassah tomorrow 8 May for surgery to repair a torn rotator cuff in my left shoulder. The surgery is arthroscopic. Afterwards, I will be in a shoulder and arm immobilizer for over a month; following that, a regimen of physiotherapy to regain use of my left arm. I would appreciate your prayers for a safe and successful procedure (My surgeon's name is Dr. Beit) and period of rehabilitation! Not only is my arm necessary for typing (and many other things), I am a pianist and worship leader in the Succat Hallel House of Prayer in Jerusalem. Please pray for grace in moving in God's plan for me during the period until the arm is restored. Thank You!
This means that for the time being, these Prayer Updates will come to an end. Below, we have listed a number of resources which can help you in keeping abreast of things in Israel (including during times of crisis as during this past week), and also, for those who follow the Parashah, an awareness of what the Torah Portions are for each week.
MANY, MANY THANKS FROM NORMA AND MYSELF TO ALL OF YOU WHO LOVE ISRAEL AND HAVE BEEN JOINED WITH US TOGETHER IN SEEKING TO BLESS HER!
___________________________________________________________
1. ISRAEL UNDER FIRE, AGAIN.
Israel has again endured two days of rockets (almost 700) fired from Hamas and Islamic Jihad Islamist terrorist organizations in the Gaza Strip. This time four Israelis were killed, scores were injured; homes, a school, a hospital were hit. Israel responded with over 350 air-strikes, including the targeted-killing of a high-level Hamas activist. Palestinian sources claim 25 Gazan citizens were killed. Some analysts surmise that the Hamas may have begun the confrontation, hoping to coerce Israel into releasing money-payments from Qatar into the Strip, banking on the fact that with Israel's Independence Day celebrations four days away and the Eurovision Music Festival in Tel Aviv just over a week, Israel would quickly come into agreement to end the rockets. Nor did they wish to extend the hostilities into the beginning of the Muslim month of Ramadan which began today. As it was, Israel refused to acknowledge for over 24 hours requests from Hamas for a ceasefire; and then only ceased its attacks on terrorist infrastructures without officially agreeing to a ceasefire. As we write, the cease-fire has been in effect for 12 hours. Although Israel brought up a vast number and tanks and troops to the border, it looks that an incursion will not take place at this time. It would be an extremely difficult time to enter into a lengthy campaign. For one thing, Israel does not yet have its new government in place.
At sundown on Tuesday, May 7, the nation enters into 24 hours of remembering and mourning its slain—soldiers who have fallen in battle, and those who have been victims of terror.
Independence Day
Wednesday evening at sunset, Memorial Day will give way to a day of celebration of 71 years as a nation!
On the eve of this 71st year, Israel's population has just crossed the 9 million mark (9,021,000). Of that number 74.2 % are Jewish, 20.9% Arab. At Israel's birth 71 years ago, there were only 806,000 people living in the land. There were approximately 11.5 million Jews in the world, with 6% in Israel. Today 45% of the global Jewish population lives in Israel ("Israel's population tops 9 million…": The Times of Israel, 6/5/19).
PLEASE PRAY:
* The Mercies of God in divine comfort for those who lost loved ones in this recent conflict, and help, healing, restoration and hope for those who have been wounded or traumatized.
* That a strong, stable government be soon formed in Israel.
* That God grant Israel's government and military leadership insight and wisdom into how best to respond to the next flare-up of conflict with the rogue-government in Gaza.
* That deliverance from On High come to the citizens of Gaza! Currently, the citizens suffer from unemployment of over 52%. And the vast majority of funds which are poured into the Strip are funneled to their militant Islamist rulers. Believing Christian Arabs in Gaza live under intense persecution, having to meet covertly. Pray for a great move of God among these Brothers and Sisters…with love and power and signs and wonders which will starkly expose the darkness and depravity of the other gods served there. Pray for awakening and revival in Gaza!
* For the God of All Comfort to minister grace and hope to those many who mourn during this Memorial Day in Israel.
* For this 71st year to be one of awakening in Israel—into awareness and knowledge of the Holy One—the God of her Fathers, and the righteousness and life which are in His Son! (Proverbs 30:3-4)
2. TO KEEP YOU INFORMED.
As we do periodically, we would like to provide you with several online Israeli English news sources. There is no need for anyone with an online computer to be dependent only upon television news reports in being informed. In addition to giving continually updated news stories, each of the first four resources mentioned below has a scrolling line of Breaking News Updates. Certainly, we are not suggesting that everyone should make use of all of these, but as a resource, especially when Israel is under crisis, any of them will generally provide a reliable account of what is "going on." And for those who wish to go deeper, each of them bears its own valuable perspective. In Israel, there may be both good and harmful extremes presented by either Right- or Left- leaning media—and one may find helpful accurate perspectives on issues in either camp. However, for those wishing only one news source, we would recommend one of those listed under "A" or "D" below.
A. The Jerusalem Post and The Times of Israel are both "right of center" publications.
B. YNETNews is an online English news website of the Hebrew Yedioth Ahronoth newspaper. We would call it "left of center" in its political leanings.
C. Arutz Sheva 7 (Also called "Israel National News") is an Orthodox online news service "identifying with religious Zionism." Further to the Right than the publications mentioned above.
D. KEHILA NEWS ISRAEL is a wonderful news source for the Messianic Community in Israel. Go to the website. You may subscribe to receive it daily. It contains news stories, plus community news; contributions and commentary from the Messianic community, blogs, videos, as well as teachings and a ministry directory.
WEEKLY PARASHAH
For those who would like to keep current with the weekly Parashah–what is being read in Synagogues around the world, visit our Online Parashot.

3. ROSH HODESH FOR THE "SECOND MONTH." A TIME FOR LAYING FOUNDATIONS.
Today May 6th is the first (Rosh Hodesh) of the "Second Month" in the Hebrew calendar. It was known as Ziv in Canaan. Today the Babylon name Iyaar is used.
"Now it came about in the four hundred and eightieth year after the sons of Israel came out of the land of Egypt, in the fourth year of Solomon's reign over Israel, in the month of Ziv which is the second month, that he began to build the house of YHVH.
In the fourth year the foundation of the house of YHVH was laid, in the month of Ziv. In the eleventh year, in the month of Bul, which is the eighth month, the house was finished throughout all its parts and according to all its plans.
So he was seven years in building it." (I Kings 6:1, 37)
PLEASE PRAY:
* Thanksgiving for God's blessings over the past month. Mercy, insight, prophetic sensitive guidance among His people during this new month.
* His Kingdom advance in Israel during this 2nd Month!
* That any foundations which need to be laid in the Spirit for the building up of His Body in Israel be successfully accomplished this Month.