Summer brings a fresh and newsy issue of Zealous, and I am eager to share it with you. Our feature article is by Nic Lesmeister called "Israel: What You Won't Hear on the News." It is a look at Messianic believers in modern Israel. Nic now bears the title of Executive Vice President of the Messianic Jewish Bible Institute. He and his wife, Tabatha, and daughter, Naomi, have been living in Israel the past nine months as Nic has been attending school at the Hebrew University. We welcome them home in August. In September, Nic will join us full-time in our stateside office in Texas. Please keep them in prayer as they return and adjust.
You will also find an interesting article by Dr. Gannon on messianic pretenders over the centuries. My wife Bonnie has a special piece in honor of America's Independence Day on July 4th titled "Jewish Contribution to America" that you will enjoy. We are also featuring a short biography about Dr. Gerald Gotzen. He has a special love in his heart for Ethiopia and has had the opportunity during 48 years of service to influence both royal and political leadership. Recently our MJBI media team filmed his teaching called "The Rising Star of David in Africa" for our online School of Messianic Theology (SMT), for which you may be interested in registering. You will find all the information there. And lastly, don't forget about our Israel tour scheduled for this fall. Registeration information is on the back page.
I want to thank you deeply for supporting the MJBI with your generous gifts. The stories and testimonies featured here would not be possible without you! Your partnership is so important in the daily flow of our outreaches and ministries. Zealous Magazine is an occasional glimpse into the nuts and bolts, field work, and testimonies of our students, donors, and workings. Please take a minute to send a gift to us this month with the attached envelope. It will be used prudently and prayerfully as we continue our mandate to reach the lost sheep of the House of Israel.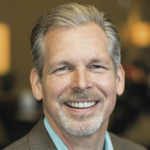 For Zion's Sake, Wayne Wilks, Jr., Ph.D. – President
---