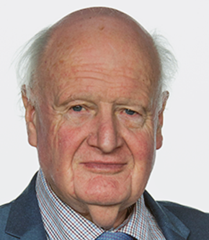 Dr. Gerald Gotzen calls himself a roving missionary, and indeed, he has traveled throughout the Middle East and Africa for the past 48 years bringing the Good News of salvation through Jesus. He is also known for his exceeding love for Israel and the Jewish people.
This British missionary, who is a true pioneer, will tell you that it has been the amazing grace of God that has led and sustained him every step of the way—he even once found himself on the stone-cold floor of a prison! Obedience to God has brought him to many places, adventures, and peoples, but it has been Ethiopia that captured his heart.
In the 1960's, Dr. Gotzen and his wife were invited by the granddaughter of Haile Selassie to run a hotel in Lalibela. This experience opened the doors for them to befriend and influence Ethiopian royalty and leaders, both political and religious, for decades.
During the times of Communism, Dr. Gotzen established the Beit Shalom ministry which still meets the practical and spiritual needs of the Ethiopian Jewish tribes who have a 3,000 year ancient history dating back to King Solomon and the Queen of Sheba. Many of them are true believers in Yeshua, and some have immigrated to Israel—especially during the two famous airlifts called "Moses" and "Solomon" in 1984 and 1991 respectively. It is among those remaining in Ethiopia that the MJBI has established on-sight Messianic Bible schools and online courses.
There are over 15,000 Jews left in Ethiopia, and many long to go to Israel. Dr. Gotzen relays this saying among them, "The hungry go to food, the thirsty go to water, but I will go to Jerusalem."
The MJBI recently filmed a course taught by Gotzen for our on-line School of Messianic Theology, The Rising Star of David in Africa.
The SMT Amharic is an exciting project, and it has enormous potential in reaching thousands from the Jewish Lost Tribes. The MJBI is committed to providing training and teaching for the advancement of the kingdom.
To facilitate the SMT Amharic, many things must fall into place. Training, equipment, prayers and financial support—we are dependent upon you who love the Jews of Africa to help meet the needs. Thank you for your kind commitment to the MJBI.
---