Approximately 3.5 million tourists visited the land of Israel in 2014. Of these, 53%—or 1.85 million—were Christian tourists according to Israel's Central Bureau of Statistics. What an amazing show of support for Israel from some of its biggest backers–-believers in Jesus! Sadly most of these tourists only visited the ancient stones of the land during their tours, and were never connected to the living stones of modern-day Israel: the Israeli believers in Yeshua.
It is estimated that around 160,000 Christians are citizens of Israel, a well-publicized fact since radical Islamists have been pillaging Christians recently in the Middle East. It is also a fact that the safest place for Christians in the Middle East is in the land of Israel.
The vast majorities of believers in Israel are Arab (approximately 80%). Somewhere around 15,000 believers in the Land of Israel are Messianic Jews, who worship at over 150 different Messianic congregations. This number is growing, despite challenges in many different aspects of life for Messianic believers here. There are Messianic outreach centers in Tel Aviv, Jerusalem, Ashdod and Haifa that are actively reaching Jewish Israelis with the good news of Yeshua.
However, this fruitful and important ministry does not come without setbacks and occasional persecution. Many Messianic believers and ministries endure challenges from the Ultra-Orthodox "anti-missionary" organization Yad L'Achim which attempts to defraud Messianic Jews as not truly Jewish because of their faith in Yeshua as the Jewish Messiah. Despite the challenges, Messianic believers continue to gain prominence inside of Israel, especially in the younger generation. Just this past December, a young and talented Messianic musician gained national attention when she announced, "We believe in Yeshua!" during her televised audition for the wildly popular "American Idol" of Israel talent show HaKochav Haba ("The Next Star").
The spiritual connection between Jew and Gentile also continues to grow and mature in Israel. This past February in Nazareth, the hometown of Jesus, MJBI board member Dr. Dan Juster signed a historic document with Apostle Che Ahn to reaffirm the spiritual reconnection between Jewish and Gentile believers in Jesus. The ancient wounds between Jews and Gentile Christians continue to be healed through humility and forgiveness in the land of Israel.
Many new ministries continue to be founded in Israel to see the unity and advancement of local Messianic believers as well. Israel First Fruits exists to empower the Body of Messiah in Israel, Jew and Arab, economically through business education and entrepreneurship training, to see a new wave of business owners who profess unwavering faith in Yeshua. FIRM (Fellowship of Israel Related Ministries) also recently launched as a new organization that seeks to connect spirit-empowered believers, ministries and organizations to bless and reach the Jewish people with the Gospel of Yeshua, both in Israel and in the diaspora.
These statistics and facts really come to life when you live in Israel as my family and I are doing this year. Making lasting connections with local Messianic believers and seeing how the Lord is using them to share the love of Yeshua with their neighbors and friends has been rewarding to watch. I hear their personal stories of how they share the Gospel of Yeshua with their bosses, their colleagues, or other business contacts. For many local Israelis, all they know of Christianity is from what they see from tourists. The powerful testimony of a local Jewish person who has professed faith in Yeshua as Messiah has a lasting effect on other Jews in the land.
These are the ancient words of Yeshua coming to life in our modern times: "and you will be my witnesses in Jerusalem, and in all Judea and Samaria, and to the ends of the earth." (Acts 1:8) The message of forgiveness and hope is restoring Israel to the Father, and the uniting and powerful salvation of Yeshua is bringing true peace to the Land! It is the only "peace agreement" that will work, and it is the one we should all pray most earnestly for: "Pray for the PEACE of Jerusalem" (Psalm 122:6).
For Zion's Sake,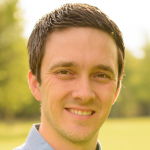 Nic Lesmeister – President and CEO
---