I have prayerfully read the book "The Practice of the Presence of God" by Brother Lawrence many times—its message has served to deepen my faith. Its author's dedicated example of pursuing and seeing God in the mundane of his vocation challenges me to release the small things in life for the straightforward higher pleasure of pleasing God.
This unusual man served as a lay brother in a Carmelite monastery in Paris. Lawrence is known in the Christian world now for the intimate relationship he developed with God, which was documented in a book compiled from personal letters after his death in 1691. As a young man he fought in the "Thirty Years War," sustaining a near-fatal wound that left Lawrence crippled and in severe pain the rest of his life. Drawn to a spiritual life of faith and deep love for God, Brother Lawrence chose to serve the Lord through the church.
Sometime after entering monastic life, he lived in the desert as austerely as the desert fathers of old. In mid-life, Lawrence joined the monastery in Paris. During his time of service he called himself, "a clumsy footman who broke everything." Known for his humility and joy, Lawrence did not seek the limelight, but reached for a higher calling of remaining intimate with God at all times by consciously "practicing His presence."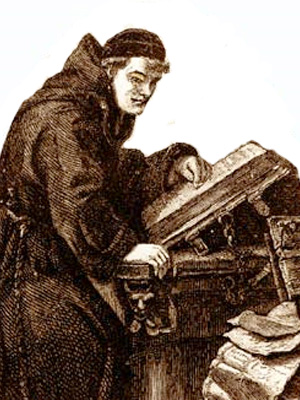 Several years ago, while in Cyprus, I wrote in my journal that I believed God spoke to me to visit Brother Lawrence's grave in Paris. The time had come! Since I was going to be ministering in Geneva, I planned to spend one afternoon in Paris on my return.
After much research, I found the monastery and church at the Catholic University of Paris. The day I arrived, an English-speaking woman was there who gave me extensive information about Brother Lawrence. The place captivated me. I was moved by the 16th-century paintings on the church walls, realizing they were there when Brother Lawrence served, and I just wanted to soak it all in.
The sculpture in the church (then and now) was of Elijah the prophet—with a raven at his foot symbolizing a time of God's provision in a season of great persecution. The Lord spared Elijah's life while Jezebel and the servants of Baal killed others.How prophetic this sculpture was!
I was amazed to learn that just over 100 years after Brother Lawrence's death, French revolutionaries killed 120 monks (who did not accept state-control of the clergy) in this very church-monastery compound. Their sacrifice is observed by some Christians on September 2 and 3 and is known as "Martyrs of September." I was stirred by the truth before me: Men died for their faith and love for the Church. I prayed that God would continue to preserve and bless theirmemory.
As I carefully scanned the list of martyrs, I noticed the names of four who were probably Jewish. Their family names were very different than the other French names listed. I am sure they were Jews who had converted to Christianity—JHL Samson, PN Psalmon, Frere Salomon, and V Abraham.
That burial place was cold, but my heart grew warm as I lingered there, sensing the presence of God around me. I was reminded that the Lord has always had a remnant of Jewish believers as Paul stated in Romans 10. I silently praised His name for faithful men and for the faithfulness of God to His Holy Word through the ages.
These early Messianic Jews served God in the light they had in their generation. I thought in that poignant moment: surely I can also serve the Lord in the light I now have in my generation. I can do (nothing more than) what is given me from Heaven.
In my heart I heard a very distinct voice reminding me of several things that personally encouraged me:
Throughout history God has always had a remnant of Messianic Jews in the most unexpected places serving His purposes that have never been recognized or honored, like these Jewish monks serving in this monastery in Paris.
My life-long calling is to the Messianic Jewish restoration of faith.
A renewed reminder to pray for France and God's visitation of the many Jewish people still living here.
As these Jewish Christian martyrs gave all to follow God, may my life be given to Him in life and death, to glorify the Messiah for the cause of "all Israel being saved."
As I left the monastery, I knew I had experienced an intimate encounter with God. Yes, my prayer continues to be that I become more like Brother Lawrence. I yearn for the same intimacy with God that he knew.
But I was surprised by the unexpected realization of the Messianic Jewish martyrs who suffered and died in the French Revolution at the hands of evil men. I am sobered by the memory of these who paid the ultimate price. I am also sobered by God's faithfulness to Israel in every generation to maintain a remnant of Jewish faith.
May my remaining days speak for those whose memory should not be forgotten. And may my days be given for the Jewish people who someday will believe.The bones lying in dark crypts, silenced in their graves and closed behind ancient church doors, still have a story to tell—may they speak for all who have ears to hear.
---
Dr. Wayne Wilks, Jr. is the pastor over Jewish Ministries at Gateway Church. He and wife Bonnie established the MJBI in 1996 in Odessa, Ukraine. Wayne served as the MJBI president for two decades and continues to serve as President Emeritus.
---