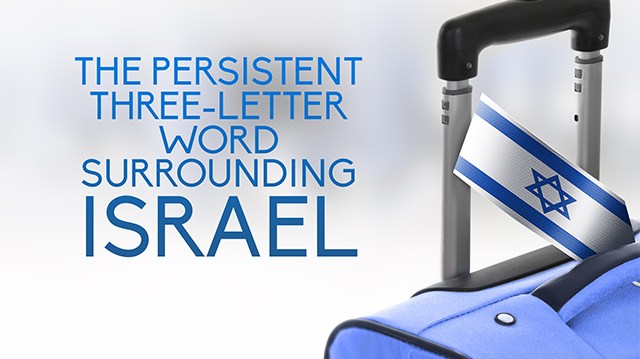 I am looking out of the window of my Ethiopian Airlines plane as we cruise somewhere over Egypt en route to Israel. The meandering Nile River provides the only change of color in the sea of golden yellow desert below. Some 35,000 feet above ground, my Boeing 737 is filled with incredible diversity. Japanese, Chinese, Israeli, Russian, Ethiopian, and American passengers, just to name a few. All of them are purposefully headed to the tiny nation of Israel. Why?
This is the million-dollar question that surrounds Israel: why? Why are people from all over the world so fascinated with this tiny piece of land that measures the same approximate size as New Jersey? Why is there so much coverage of every action in this land from international media?
I often tell people that the way you view Israel dictates the way you will view the entire rest of the world. Israel truly is one of the most uniting and dividing subjects of our time. Let me again insert this loaded three-letter word: why?
Because Israel is at the center of God's plan to reveal His glory and Lordship to the entire earth. In Isaiah 49:6 the Lord says, "I will bring back the preserved of Israel; I will make them as a light for the nations that my salvation may reach to the ends of the earth."
From this New Jersey-sized piece of land, the Lord will send salvation to the ends of the earth! Just as those who oppose God constantly attack the fabric of Biblical values in America, so also they are attacking His purposes through Israel and the Jewish people. As we draw ever closer to the days of the full restoration of Israel, anti-Israel attacks will continue to grow.
But thank God! There are 737s full of people who choose to stand with the God of Israel. You are counted among them! Today, be encouraged that you are steadily anchored in the eternal plan of God to bless the nations of the earth through Israel. And as the attacks on God's people grow worldwide, be strengthened with these words—also from Isaiah 49: "Rejoice, earth! For the LORD is comforting his people, having mercy on his own who have suffered."
We at MJBI are constantly praying for you and thanking God for your partnership with us to bless Israel! One day, you and I will touch down in the beautiful land of Israel for eternity, where Yeshua will rule, reign and bless the nations for the rest of time. May that day come quickly!
Thanking God for you,