Ukraine Update – March 20, 2015
Our friends in Ukraine continue to be very grateful for the generosity of so many in the aftermath of the recent bombing that destroyed the children's ministry offices in downtown Odessa. God has shown them great favor, and the restoration of the building is underway. The building owner offered not to charge rent as long as the tenants did the renovations. The workers are making great progress thanks to your liberal donations, but it is not finished.
So far, a refrigerator and stove have been purchased for the young men that live there. They expressed how overwhelmed they were by the recent gifts from the states. Valentin has also ordered the tile to repair the floor that was damaged extensively in the bombing.
Ukrainian bomb squads have been seen evacuating other buildings in the area, thus tensions remain high for the residents of Odessa, Ukraine. Valentin, however, says that although he is aware of the danger, he continues to walk in peace, trusting God every day.
Please continue to pray for Valentin, Tatyana, and all those affected by this attack. The repairs are underway, but far from finished.
Prayer Requested for Happening on Purim in Odessa, Ukraine – March 5, 2015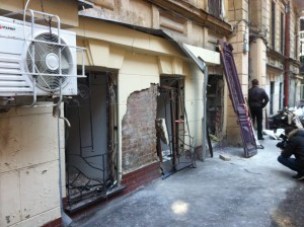 This morning in Odessa, Ukraine, a Russian radical group bombed a Ukrainian nationalistic volunteer office.  It is the biggest bombing yet by radicals in Odessa.
The volunteer office was actually upstairs ,but they bombed this downstairs apartment being used by members of Or Hamashiach (Light of Messiah) Congregation, led by Valentin Sviontek who oversees the MJBI in Ukraine.
Oddly, it was on the day of Purim and an MJBI field worker in Odessa was the one directly affected. Selah.  I don't think it was an accident in Satan's mind.
This ministry in the congregation is for street children, which are many in Odessa. About 20 kids are being ministered to by the congregation through this ministry. A Canadian woman who attends the congregation is leading it with much volunteer help from the congregation.  Many of these children have mental problems.  They are brought to the congregation regularly and being ministered to by congregants.
Six boys and a volunteer were sleeping there last night.  Thankfully, none were injured, but the trauma was great.
Please keep Valentin Sviontek in prayer as well as those children and workers affected.
Bonnie Wilks
MJBI Senior Writer